We Wish You a Turtle Christmas
Talk

0
2,063pages on
this wiki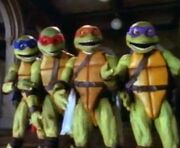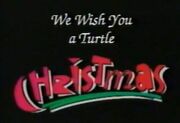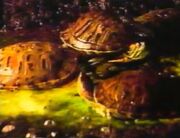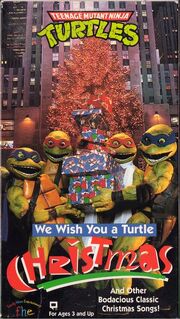 We Wish You a Turtle Christmas is a 25-minute, live-action Christmas special released direct-to-video in 1994.
It's Christmas Eve and the Turtles have forgotten to get Splinter a gift. The Turtles argue about who was supposed to get the gift.
The Turtles go above the surface, undisguised, and decorate a tree in Times Square. Michaelangelo sings some opera.
After Mikey stops singing, they go to a store to buy the gift. They suggest comic books, video games, and yo-yos, but end up buying a framed plastic pizza. While wrapping the gift, they sing the Wrap Rap.
Splinter accepts the gift and compliments his students for their thoughtfulness and giving spirit. Splinter invites his sons and a bunch of children, who he apparently invited over for Christmas, to sing his version of the Twelve Days of Christmas.
(observes Mikey staring at a Christmas Tree)
Raph: Oh no. He's turning into that opera guy again!
- Raphael, observing something we were fortunate to miss the first time.
Contains some of the same music as the "Coming Out of Their Shells" tour.
"Wrap Rap"
"We Wish You a Turtle Christmas"
Nods and References
Edit
Leonardo mentions Bebop, Rocksteady and Shredder in his version of "Deck the Halls", and Splinter also mentions getting an autograph from April as well, but these characters don't appear. Which makes them rather lucky, when you think about it.
Michaelangelo pulls out several TMNT comic books, and even says, "I'm on the cover, man!" Fourth wall, consider thyself broken.
Animation/Special Effect Errors
Edit
The glowing effect placed over the manhole covers in the intro goes under the car as planned, but clips right through the tires.
The costumes are really low quality in this production, and it shows. Visible seams and zippers can be seen on the Turtles' costumes, and you really don't want to know what happens when the costumes' shells ride up too high...
There are way too many times where a Turtle would talk or sing, but his mouth would either stay shut or move completely out of sync with the words.
Continuity/Logic Errors
Edit
On the VHS cover, one can see that Leonardo has four fingers, which is false knowing that the Turtles clearly only have three fingers.
During the gift hunt, one of the Turtles sings "Six yellow yo-yos..", but Michaelangelo is clearly holding up only five of them.
The Turtles almost unanimously reject getting Splinter any ties....and ends up giving him nine. Wait....WHAT?
A framed plastic pizza? Seriously?

What's more, Michaelangelo's proudly displaying it when Splinter sings about it, and even points to himself every time it's referred to. The problem? It was Donatello's idea to get it in the first place.
The gifts that the Turtles give Master Splinter seem rather...random, ranging from somewhat appropriate (the kimonos) to downright odd (the yo-yos and the framed pizza). Though one can suppose that when you've got less than two hours to do Christmas shopping (half of which was wasted on singing carols,) you're not going to be picky.
Don't ask Leonardo to put up your Christmas lights. During the first song, his body gets progressively tangled up with more and more lights until he could be cosplaying as a Christmas tree himself.
According to the "Twelve Days of Christmas", Splinter receives the following presents:

12 April O' Neil autographs;
11 pairs of sneakers;
10 yellow yo-yos;
9 narrow neckties;
8 chopsticks;
7 silk kimonos;
6 frisbees;
5 video games;
4 manhole covers;
3 skateboards;
2 comic books;
...and a pizza with pep-per-on-i!
Speaking of which, does Splinter's speech immediately afterwards basically say, "Thanks, but no thanks," to the Turtles? Given half of those presents, though, can you really blame him?

Even more hilarious is the Turtles' reaction to that. The "Uhhhh...." visibly heard from one of them (the out-of-sync lip movements make it hard to tell who) followed by Michaelangelo suddenly bursting out with "DOES ANYBODY LIKE, WANNA PIZZA?!" makes that moment seem really, really awkward.
So....what did Leonardo get Donatello for Christmas? It's been hinted at since the first song, teased at some more when Leo wraps it during the 'Wrap Rap', and there's even a couple of shots that focus purely on the present itself. And yet, when Donatello finally opens the present....the camera quickly cuts away, and it's never mentioned again.
Criticism
Edit
Alongside the "Coming Out of Their Shells" tour, this production was derided by many fans as being nothing more than a cheezy, low-budget marketing ploy. Some of the complaints levied against the show were:
The terrible costumes. Most notably, the masks had this rather horrid smile draped across their faces, making scenes where the Turtles are supposed to be distressed seem either unintentionally hilarious or outright painful to watch. Other than that, there were visible zippers as well as seam lines under each of the masks, further ruining the illusion that the Turtles were 'real'. Most unsettling, though, is the few moments where the shells on the costumes would ride a bit too far up, revealing a rather blatant bulging crotch. Ew.
The terrible voice acting. All of the Turtles have Brooklyn accents, which aren't even consistent, especially when Leonardo descends into a thick Jamaican accent when he sings his favorite Christmas tune, and Michaelangelo starts singing...opera? Many observed that the voices were horribly out of sync, and the mouths would sometimes move when a character was not speaking...and vice-versa.
The terrible songs. The lyrics were changed around from traditional Christmas carols to include numerous Ninja Turtles references, but these references are so obviously shoe-horned in that it becomes rather painful to listen to. Case in point? Leonardo sings, "Merry Christmas to the Shredder" which ends in a record needle scratch. This was supposed to be funny, but it ends up sounding like a forced joke.
Aside from that, the story itself is rather nonsensical, and seems more like an excuse to have the Turtles sing Christmas carols. Terribly.
References
Edit