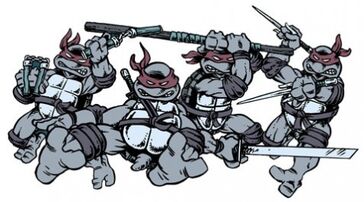 Throughout the years, the Turtles have been known for using the following weapons: Twin
Katana
(
Leonardo
),
Bo
(Donatello),
Sai
(
Raphael
), and
Nunchaku
(
Michelangelo
). However, during certain circumstances, the Turtles have used different weapons. Most prominently was in the
original cartoon
, where Michelangelo was forbidden from using his nunchaku in some parts of Europe, and was forced to use other weapons for some time.
Admin's Note: Please try to only use prominent examples here.
Donatello
Leonardo
Michelangelo
Raphael
Venus
Ad blocker interference detected!
Wikia is a free-to-use site that makes money from advertising. We have a modified experience for viewers using ad blockers

Wikia is not accessible if you've made further modifications. Remove the custom ad blocker rule(s) and the page will load as expected.