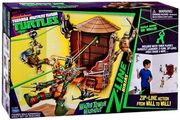 Description
Wipe Out! Wreak havoc on the unwary Foot as the Turtles come pouring out of the water tower to wage their wild assault!
All Z-Line Ninja sets connect. Build the city and create a world of zip-line action!
Product includes:
1 Water Tower Playset
4 Command Strips from 3M
4 wall clips
1 gargoyle launcher
1 C-Clamp
2 tension cylinders
2 Z-line pulleys
1 two-hand handle
1 one hand handle
2 48" Zip-line
1 72" Zip Line
1 Angle Gauge
Notes
Figures sold separately
Adult Set-up Required
Works with most Turtles Figures
Safely and securelly attach to walls
Gallery
Ad blocker interference detected!
Wikia is a free-to-use site that makes money from advertising. We have a modified experience for viewers using ad blockers

Wikia is not accessible if you've made further modifications. Remove the custom ad blocker rule(s) and the page will load as expected.